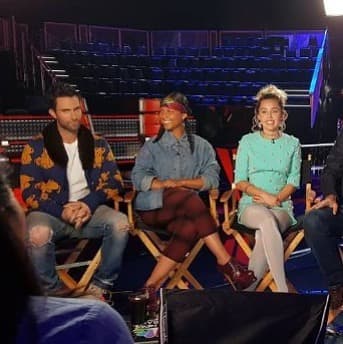 Snimanje nove sezone muzičkog takmičenja The Voice je u toku, a starim članovima žirija, Adamu Levinu i Blakeu Sheltonu pridružile su se dve dame sjajnih vokala, Alicia Keys i Miley Cyrus.
Miley je za snimanje jedne emisije Voice-a obukla haljinu srpske dizajnerke Ane Ljubinković.
Mint kratku haljinu sa našivenim biserima mlada pevačica je uklopila sa choker ogrlicom i podignutom kosom, a kreatorka je postavila fotografiju na društvene mreže, uz komentar: "Talentovana i prelepa Miley Cyrus nosi moju mint haljinu sa biserima, u društvu Alicie Keys i Adama Levina na snimanju nove uzbudljive sezone NBC-jeveemisije The Voice".
Ljubinkovićeva je nedavno na Nedelji mode u Londonu dobila nagradu kao najbolji mladi dizajner, a trenutno radi na kolekciji za jesen/zimu 2016/2017.