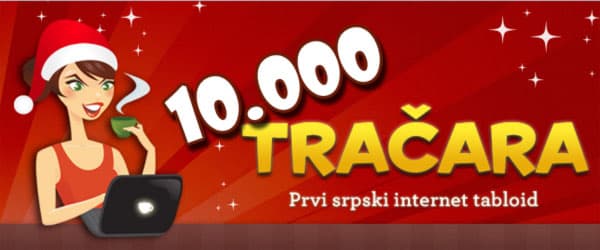 Drage moje i dragi moji, ovo je 10.000 tekst na vašoj omiljenoj Tračari!
Zajedno smo od novembra 2008. godine pratili dešavanja iz privatnog života najpopularnijih stranih i domaćih ličnosti, njihove karijere, nove veze, raskide, venčanja, razvode, dočekali smo mnogo beba, premijerno gledali brojne spotove, igrali igrice, podelili brojne poklone…
Nema potrebe da naglašavamo da ako nešto niste pročitali na Tračari, to onda nije ni bitno, jer vi to već znate! Tračara, kao prvi srpski internet tabloid, priprema vam brojna iznenađenja, koja će vam se zasigurno dopasti. Zajedno smo pomerili granice domaćeg web novinarstva, čemu svedoče brojna priznanja.
Ovo je tek prvih 10.000 tekstova. Hvala vam što ste uz nas,
Vaša Tračara!