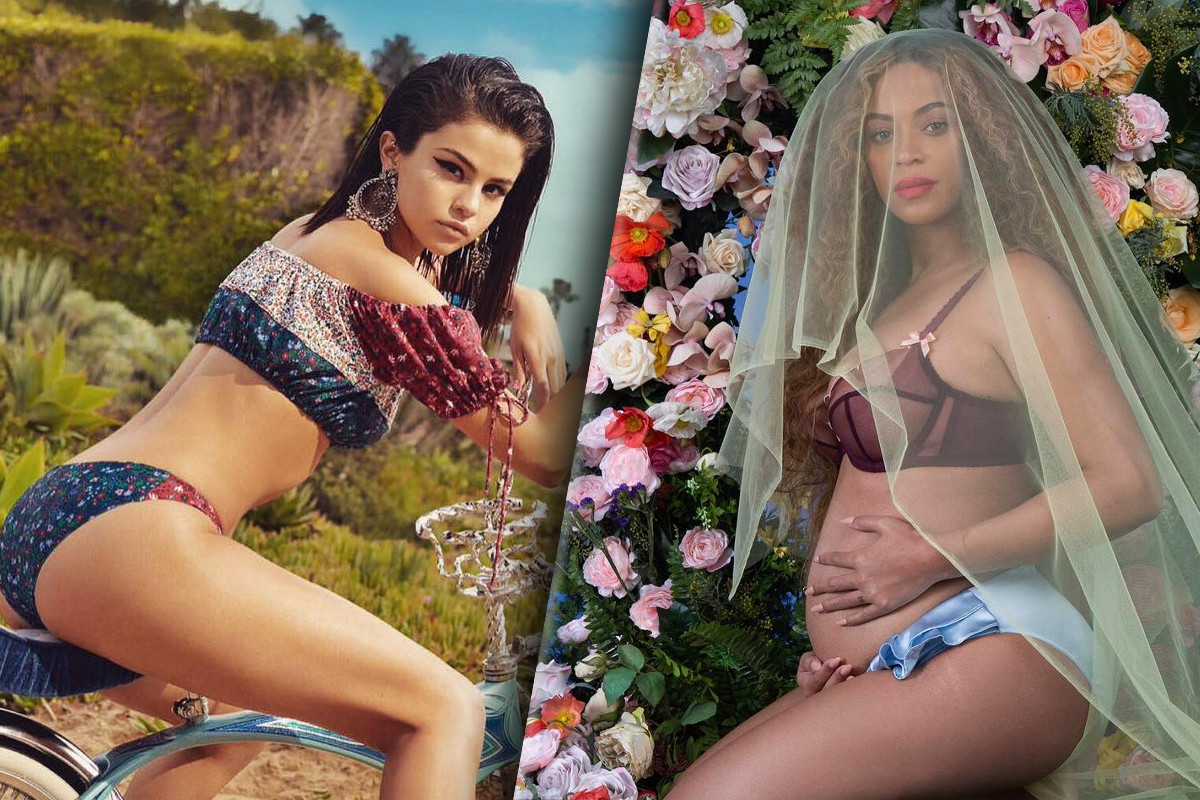 Kako se 2017. godina završava za samo mesec dana, vreme je da se prisetimo trenutaka, ili u ovom slučaju fotografija, koje su je obeležile. Instagram je sinoć objavio top 10 listu najlajkovanijih fotografija na ovoj platformi, a ona izgleda dosadnije nego što zamišljate. I to samo zato što su svih 10 fotografija objavile samo 3 različite zvezde.
Selena Gomez, Beyonce i Cristiano Ronaldo definitivno vladaju ovom društvenom mrežom, jer se na top listi nalaze samo njihove fotografije. A kako lista izgleda, pogledajte u nastavku:
No. 10
Poslednje mesto na ovoj listi zauzela je Selena Gomez sa fotografijom koja je nastala na proslavi 25. rođendana. Ova fotka ima 'samo' 7 miliona lajkova.
No. 9
I na pretposlednjem mestu se takođe nalazi Selena, sa njenom fotografijom koju je uradila za Vogue magazin.
No. 8
Kako je Cristiano muškarac sa najviše fanova na ovoj društvenoj mreži, ni ne čudi nas što je ova porodična fotografija sakupila preko 7,2 miliona lajkova.
No. 7
Selena Gomez i The Weeknd možda više nisu par, ali ovom fotkom su pokazali da i dalje vladaju društvenim mrežama.
No. 6
Još jedna fotografija Selene i Abela… Sada znamo zašto pevačica odbija da obriše ove fotke iako više nije sa The Weekndom.
No. 5
Cristiano je ove godine postao otac tri puta. A kada je fanovima na Instagramu predstavio blizance koje je dobio putem surogat majke, internet mu je čestitao brojnim lajkovima.
No. 4
Osim Selene i Cristiana na listi se nalazi i Beyonce i to sa fotografijom kojom je prvi put predstavila blizance Sir i Rumi Carter.
No. 3
Selena Gomez je imala tešku godinu. Zbog lupusa, od kojeg boluje godinama, njeni bubrezi su otkazali, pa joj je trebala hitna transplatacija. Fotka kojom je obavestila fanove o operaciji se našla na trećem mestu ove liste, a na njoj Selena pozira u bolnici držeći za ruku svoju najbolju drugaricu i donatora Franciju Raisu.
No. 2
Na drugom mestu se ponovo nalazi slavni fudbaler i fotografija koja je nastala nakon što se njegova devojka porodila početkom meseca. Iako je fotka objavljena pre samo 2 nedelje, ona ima preko 11 miliona lajkova – samo 100.000 lajkova manje od prvoplasirane, pa nas ne bi čudilo i ako ona uskoro postane i najlajkovanija fotka 2017. godine
No. 1
A na prvom mestu se nalazi Beyonce i, sada već legendarna fotka, kojom je obavestila čitav svet da očekuje blizance. Ova fotografija ima 11,1 milion lajkova, što je ujedno čini i najlajkovanijom fotografijom ikada na Instagramu.