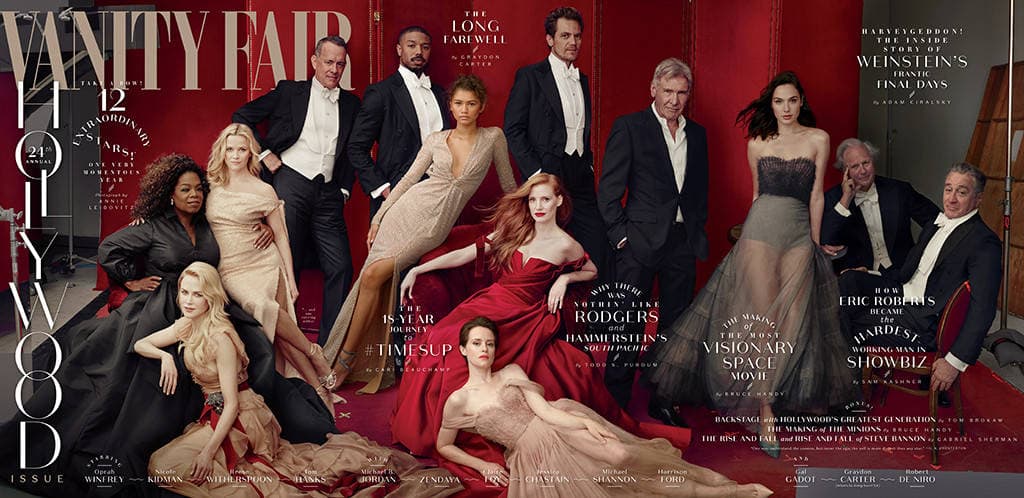 Editori često prave katastrofalne greške prilikom sređivanja fotografija za naslovnice popularnih magazina. A poslednja žrtva takve greške je poznata glumica Reese Witherspoon.
Zvezda serije The Big Little Lies se našla na naslovnici Vanity Fair magazina zajedno sa drugim velikim zvezdama kao što su Oprah Winfrey, Nicole Kidman, Tom Hanks, Zendaya, Michael B. Jordan, Jessica Chastain, Claire Foy, Michael Shannon, Harrison Ford, Gal Gadot i Robert De Niro. Međutim, Resse je privukla svu pažnju javnosti jer na fotki deluje kao da ima tri noge.
im tryna figure out how many legs reese witherspoon's got in here, it's been bothering me for the last five minutes pic.twitter.com/u1uQ63sDdd

— marga / emma. oscars campaign manager (@leiascaptain) January 25, 2018
Twitter su momentalno preplavili komentari u kojima se fanovi podsmevaju ovoj photoshoop failu, pa se na kraju i sama glumica oglasila.
"Pa… Izgleda da sada svi znaju… Ja imam tri noge… Nadam se da ipak možete da me prihvatite ovakvu kakva jesam", šaljivo je prokomentarisala glumica.
Well…I guess everybody knows now…I have 3 legs. I hope you can still accept me for who I am. ?( and I will never apologize for snuggling @Oprah .. if you get the opportunity, I highly recommend it;) https://t.co/6GyrfWxNSY

— Reese Witherspoon (@ReeseW) January 25, 2018